Level Up - 1st transnational Networking Space for Civic Educators

---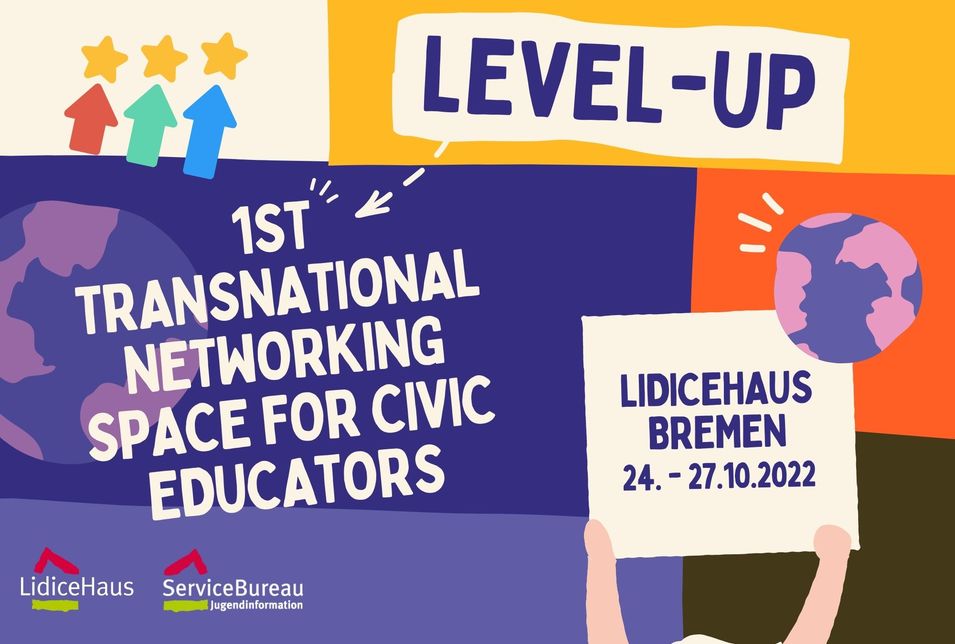 This event aims to bring together civic educators, trainers and youth workers from different countries in order to establish a space where the participants are expected to exchange their practical and theoretical experiences in this field with each other, to develop new ideas and partnerships. Throughout the event the participants will seek out ways for future collaborations and expand their knowledge in the field of civic education.
During the event the participants will have the chance to benefit from the experience of LidiceHaus as an important institution in the field of civic education. While enhancing their network, the participants will also enhance their knowledge within the field and consequently their approaches.
Exchange and networking with other projects and institutions
Introduction to the history and presence of civic education
Insights into the diverse fields of work of LidiceHaus (e.g. media education, international youth work, historical-political education)
Topic-specific deepening in open space and workshop phases
Development of common project ideas for the future
Leisure program and getting to know the city of Bremen
The activities and methods of this event include small workshops organized by participants, meeting with the experts in the fields of networking, civic education, group work activities where the participants will share their own experiences and knowledge, working groups to foster future perspectives and collaborations.
Event Place: LidiceHaus - Bremen, Germany
Event Date: 24.10.2022 - 27.10.2022
Event Organizer: Jugendbildungsstätte LidiceHaus and ServiceBureau Jugendinformation
Participants : This event is open for residents of Erasmus+ programme countries (see eligible countries). We are looking forward to welcoming individual practitioners, individual representatives of organisations, small "delegations" (about 2-3 people) of an organisation as well as new and old partners.
Costs: This event is funded by the Erasmus + Programme and all the costs including food and accommodation are covered by the project budget. The travel costs are covered up to the Erasmus+ lump sums according to the distance band. After the participants hand out their tickets and boarding cards, they will receive the reimbursement.
Participation Fee: We kindly ask you to pay a participation fee of 50 EUR as the activity is not fully funded. If you are not able to pay this amount, it is also possible to pay a reduced fee of 25 EUR.
Registration: Please register via eMail
We appreciate an early registration until the 22.09.2022. This helps us to plan the event in accordance with your expectations and contributions. After sending your registration mail, you will receive a confirmation e-mail including a link to the participant information form. This form includes questions regarding your personal information (name, organization, food preferences etc.) and your motivation to participate in the event.
Contact: In case of any further questions, you can send an eMail to Firat Büyükcoskun (Mail)
Veranstaltungsdetails
Ort
Jugendbildungsstätte LidiceHaus
Weg zum Krähenberg 33a
28201 Bremen
Downloads
Kontakt
Telefon
Auch interessant